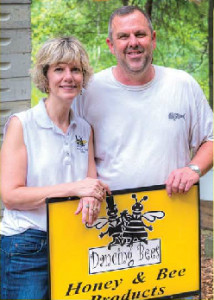 Producers of Honey, Whipped Honey, Beeswax Candles, Lip Balms and Lotion Bars, Honey Body Washes, Honey Wine Vinegar and Other Pure, Natural Products of the Beehive!   Also available are soaps by Brushy Branch Soapworks!
Email your orders for Saturday pickup at Matthews or Charlotte Farmers Markets or schedule an appointment at our "Honey House"  to shop!     Email:   thedancingbees@yahoo.com
 Look for our upcoming 4-family farm tour on Sunday,  May 7th from 2-6.   We'll host the glass demonstration "bee cage" from NC State University with Master beekeeper Jeff inside with all the bees!  
Master Beekeeper Jeff Knight and wife, Robin Hood Knight
Robin  704-661-5750 or
Jeff at 704-661-3968
Matthews Community Farmers Market,  www.matthewsfarmersmarket.com in downtown Matthews from 8-10am during the winter on Saturdays.   Beginning April 15th the Matthews Market hours will be 8am – 12pm.
 Charlotte Regional Farmers Market  www.charlottefarmersmarket.com, on Yorkmont Road in Building C  Saturdays  8am – 2pm!
 We named our honey farm "Dancing Bees" as honeybees perform various "dances" to communicate to other bees where the best pollen sources are, directions to those pollen sources, and how much potential pollen is there!  They do this all in a "waggle dance" designed to help the other bees make a "beeline" to the best pollen sources very efficiently!
Our 36 acres has many sources of plant life for our bees to visit including many Tulip Poplar trees ( the dominant nectar source), wild buttercups, and- sweet clover.  We think this gives our honey a very distinctive taste that our customers say takes them back to their childhood!
Dancing Bees Honey is not pasteurized, heated to high temperatures, or pressure filtered and being a raw product, will crystallize with time.  Honey that has granulated has not gone bad and in fact, honey is the only natural food product that never goes bad!  It has even been found in tombs in Egypt that were over 3,000 years old and it was still in great condition!
Honey is a supersaturated solution and has a tendency to turn to a granulated state.  Some honeys granulate quickly and some slowly.  Sourwood honey is one of the slowest to crystallize.
Purchase our honey at these fine locations:
By Appointment only:  Dancing Bees Farm "Honey house" store.    Email:  thedancingbees@yahoo.com
Charlotte and Matthews, NC locations:
Matthews Farmers Market –  Saturdays 8am-10am winter market hours.  Spring market hours 8am -12pm Saturdays beginning April 15th  in downtown Matthews
Charlotte Regional Farmers Market –   8am – 2pm  Saturdays
Mecklenburg County Farmers Market – 1515  Harding Place
Earl's Grocery –  Elizabeth Ave. downtown Charlotte
Healthy Home Markets – Central Avenue in Charlotte and Matthews Galleria locations
Health Nutz Nutrition —  Sycamore Commons in Matthews, NC
Monroe Hardware –  Mint Hill Festival  – 6912 Matthews-Mint Hill Road
Patel Brothers Market –  Centrum Marketplace – 10701 Centrum Parkway in Pineville
Monroe Locations:
Giant Genie Pharmacy – Franklin Street 
Health Nutz Nutrition –   2515 Hwy 74
Monroe Hardware –   1590 Walkup Avenue
AW SHUCKS!  Farms –  3718  Plyler Mill Road
Nicholson Farm Store – Weddington Road
Hunter Farm  (seasonal)-  13624  Providence Road – Weddington, NC   (Seasonal)
Secrest Feed and Seed   – 105 W. Franklin Street, downtown Monroe
Treehouse Vineyards  – 301 Bay St.
Stallings :    
  Gingy Gems Marketplace  3800 Pleasant Plains Rd in Stallings 
Indian Trail :
Upper Cervical Wellness  –  14015 E. Independence Blvd.
Farmhouse Chic –  14200 E. Independence Blvd.   Purchase Candles, Honey , lip balm and other Dancing Bees products at our booth!
Waxhaw:
 Grace Roots Farm Store–801 N. Broome St.,  near downtown Waxhaw
South Carolina:
The Southern Olive –  Hwy 521 in Indian Land  next to Publix
The Peach Stand  –  1325  SC-160 in Fort Mill, SC
Better Built Buildings –  3438  US-601 hwy in Pageland, SC
Blowing Rock NC:
 The Spice and Tea Exchange –   Downtown Blowing Rock, NC
Produce/Farm Stands – Seasonal
Simpsons Produce,   Kings Drive Market  (Charlotte)
Terry Simpson's Farm Fresh Produce (Hemby Bridge)
Randy Simpson's Farm Fresh Produce (Indian Trail)
Kiker's Produce,  Monroe Farmers Market/Mint Hill Farmers Markets